English speaking visitors: See the translation of my german text right below each paragraph in emphasis.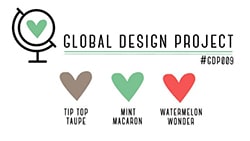 Eigentlich ist mir ja grad nach Herbst und ein klitzekleines bisschen auch nach Weihnachten, doch die neue Farbchallenge von unserem Global Design Project» passte so gar nicht nach meinen Vorstellungen. Daher entschied ich mich für eine Geburtstagskarte und da meine Aquarell-Phase noch immer anhält, passte der Einzelstempel Blended Bloom perfekt um mich wieder mit Stempeltinte und Wasser auszutoben. Die Farbchallenge beinhaltet die Farben Taupe, Melonensorbet und Minzmakrone.
Actually i'm in a total autumnly mood and also Christmas is close to the nose already but the new Color Challenge from our Global Design Project didn't fit in there at all. Therefore i decided to go with a birthday card and as my aquarelle phase is still going on the stamp Blended Bloom fittet in perfectly. The Color challenge this time is around Tip Tap Taupe, Watermelon Wonder and Mint Macaron.
Hier meine Idee dazu:
Die Maße der Karte betragen 21 x 10cm, ideal zB auch um Konzertkarten oder Flugtickets darin zu "verpacken"
The card measures 21 x 10 cm (around 8.3 x 4 inches), probably also fitting concert or airline tickets.
Nachdem ich die Blume koloriert habe, habe ich zum Schluss noch etwas Glitter mit dem Wink of Stella Brush in clear (Amazon Link») aufgemalt, so als Highlight ❤︎
After coolorizing the flower, i've put some glitter on with the Wink of Stella Brush in clear (Link to Amazon, you might have to look for availability in your country) as a highlight.
Wie ich Stempelmotive mit Marker und Wasser ausmale zeige ich in diesem Video:
If you want to watch me colorizing stamped images with our markers and water watch this Video:
Und nun seid ihr wieder dran. Bastelt was mit den Farbvorgaben und zeigt es uns». Ich freue mich über jede Inspiration ❤︎
Now it's your turn again. Create something with the colors from our Color Challenge. Post it on our Project blog – I'd love to see what you have in mind.