English speaking visitors: See the translation of my german text right below each paragraph in emphasis.
Herzlich Willkommen zu einer neuen Woche und damit auch zu einem neuen Thema beim Global Design Project. Diese Woche geht es um das Thema Baby und eigentlich stand mit der Sinn nach einer Verpackung, wurde aber dann doch wieder eine Karte zur Geburt oder vielleicht auch zum 1. Geburtstag. Das Highlight der Karte ist der Schütteleffekt. Ich habe zwei Versionen gebastelt – eine für ein Mädchen und einen für einen Jungen. Sie unterscheiden sich in der Farbe und einigen kleinen Elementen.
Welcome to a new week and therefore also to a new Global Design Project. This weeks theme is "Baby" and initially i thought about making a box but then it ended with a card again. This card could be universally used for birth gratulations or an early birthday. The highlight of the card is the shaker of course. I've made two version of it – one for a baby boy, the other for a baby girl. The differ in color and a few small elements.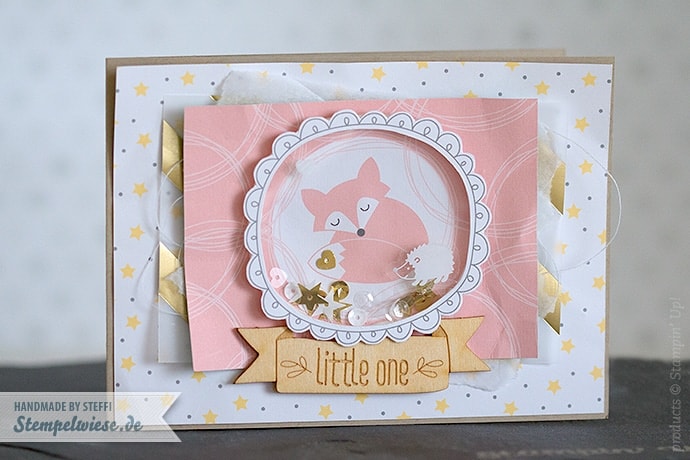 Verwendet habe ich hier die Kärtchen vom Project Life Kartenset Hallo Baby und Elemente aus dem Zubehörpaket Hallo Baby.
I used the Project Life Card Collection Hello Baby and elements from the Accessory Pack Hello Baby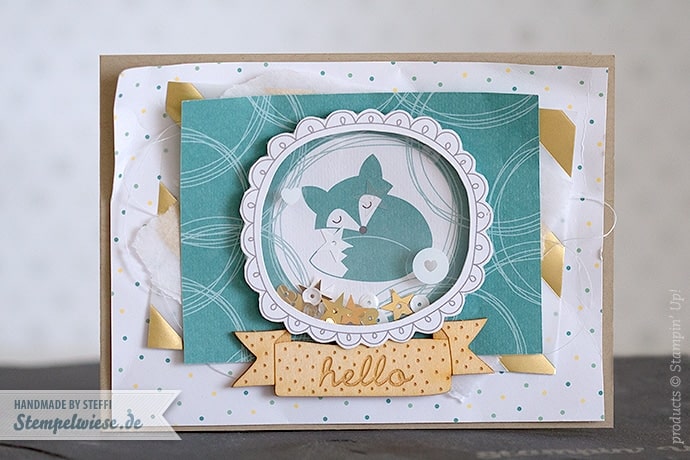 Bei der Jungenkarte war ich mir etwas unsicher, ob nicht vielleicht Silber besser passt, aber ich war ehrlich gesagt zu faul das Designerpergament in Silber zu holen und Gold lag nun mal schon auf dem Tisch 😀
Initially I thought using silver as a the highlight color for the boy's version would be good but then i've been too laze to walk across the room to get the Fancy Foil Designer Vellum and gold was already on my table 😀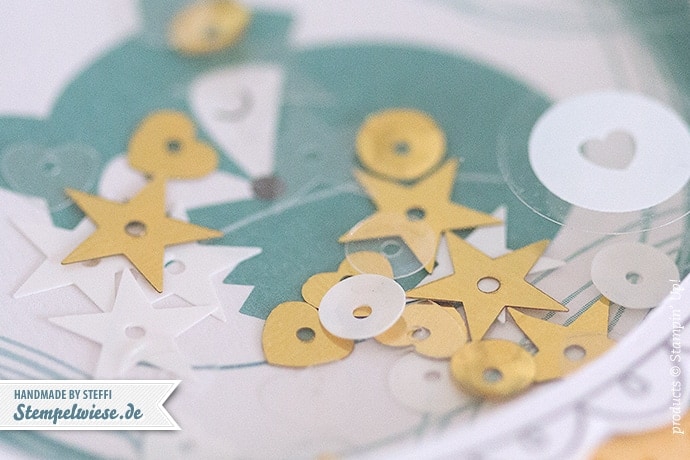 Als Schüttelelement habe ich hier die Pailletten in Metallfarben gewählt und daraus dann die weißen, klaren und goldenen Pailletten verwendet.
For the shaker i used the white, clear and golden sequins from the Metallics Sequin Assortment this time.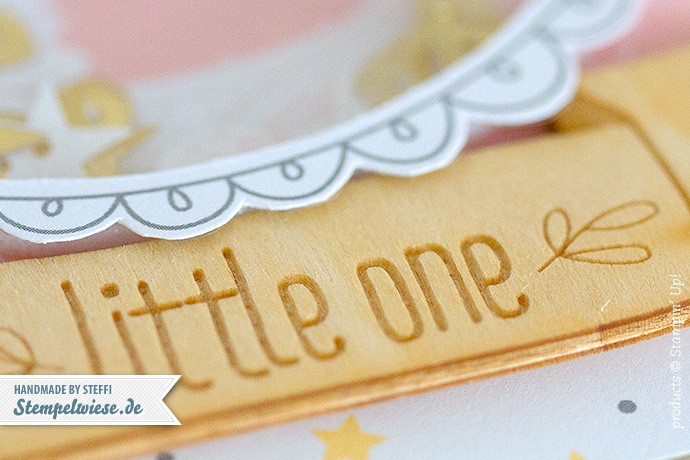 Dieses Holzbanner ist so hübsch, oder was meint ihr? ❤
I totally love this wooden banner, what do you think? ❤
Und nun freue ich mich auf eure Ideen zum Thema Baby. Bastelt doch mit und fügt es hier in den Beitrag mit ein. Wir würden uns sehr freuen!
I'm keen to see what you will do this time. Looking forward to see your ideas – craft with us and post it here on our Blog.